Dear players,
the 2014 Football World Cup is coming up, and we've got another great
payment bonus campaign
for you!
During the course of this campaign, which is active starting now, we will be
doubling the bonuses indicated in our payment area
: It is therefore possible to gain up to
60% more
premium currency
on top of one individual purchase.

Please mind the current bonus scale in our premium currency shop: the currently valid bonus is already included in the bonuses displayed here!
All packages gaining you a bonus are marked with a football-playing bunny: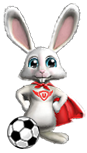 Needless to say, our current
bonus item
available with a premium currency purchase is still available.
Enjoy the World Cup, and may the best team win!
your
Upjers
-Team
*Please note: this offer is not valid for telephone and SMS payments. Please also mind: It is only the bonus that will be doubled - you will not get twice as much premium currency with your purchase.