Now new: Gather upjers-points in our game portal, and gain premium currency!
Dear players,
starting today, you can gain
upjers-points
in our
game portal
, and trade them in for premium currency valid on a game account linked to our portal.
Next to your ID (on the top left), you'll find a new icon: a golden coin with an upjers logo:

Every 200 points, you may trade in your gathered upjers-points for premium currency on a game account of your choice linked to our portal.
There are several ways to gain points: one of them is, to complete certain
achievements
in the respective game. Each completed achievement*
will gain you 10 points
. Click on the tab "achievements" in your portal account, to see a list of the achievements you can unlock in the respective games.
Aside from that, you may win upjers points
via scratchy tickets once per day
.

Click on one of the tickets to scratch it open, and you'll again receive upjers-points. There are no blanks here, thus you'll be able to gain at least one point per day. Every day anew, you'll get a new chance.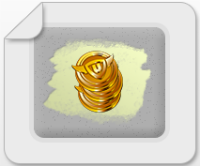 Once you have gathered 200 points, you may redeem them. All you need to do is click on the game of your choice, and possible the server.
Please note that not all of our games are included here. Excluded of this function are, for instance, browser games that are still in closed beta stage, games that are not available via our game portal or

games in which you can trade with premium-currency.
Click here to watch our video:
Have fun gathering points, and gaining premium premium currency via our
portal
.
Your
upjers
-team
*Only achievements listed in our portal will gain you upjers-points!
Got further questions about our portal, or on how to link your account to our portal? Click on our spoiler-tag, and read on!