Dear Kapitalists,
Nothing says consumerism like Christmastime! And while the good Kapi-folk is browsing through stores frantically trying to keep up on Christmas shopping, we already have some Christmas fun for you: Our
Christmas Campaign
is back, and once again, you'll have the chance to earn exclusive
status symbols
!

And this how it works:
From now
until January 9
at 11:59 pm CET, you'll have the chance to find the hidden baubles in Christmas tree!
Every day, you can try your luck at up to 15 spots on the tree and search for Christmas baubles. You'll have
5 free tries every day day
;
each additional one will cost you one Coin
. Hover your mouse cursor over the tree to find the hidden baubles - click where you suspect one might be hiding!
Your collected baubles can be traded in for status symbols
until January 23
at 11:59pm CET. This is a great opportunity to increase your status score!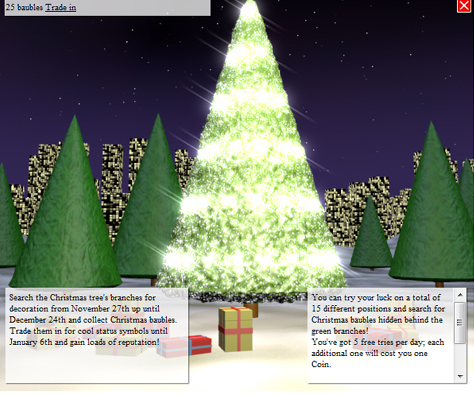 You can trade in your collected baubles via the link "Trade in" above the Christmas tree. You can exchange them for three different status symbols:
Of course, you'll be able to get each status symbol more than once, but please keep in mind that they are not tradeable. You won't be able to sell them on the market, or via contracts and you won't be able to give them away as present. But who'd really want to get rid of them anyway? They're far too beautiful!
Happy Holidays!
Your
Kapilands
Team
Note: Make sure to turn off the GFX pack (untick the box before you log in) if you want to search for Christmas baubles. The Christmas game cannot by played with an active GFX pack!