Dear players,
December the 1st has heralded the beginning of this year's Christmas season. Only a few more weeks, and Santa will be sliding down your chimneys! To make the time until that happy moment pass just a little bit faster, we're once again offering you our big
Christmas campaign
, which allows you to collect exclusive
status symbols
!
And this how it works:
Search the Christmas tree's branches for decoration until January 7th 2014 at 11:59 pm CET and collect Christmas baubles
. You may then
trade them in for cool status symbols until January 21st at 11:59 pm CET
and
increase your status score
!
You can try your luck on a total of 15 different positions and search for Christmas baubles hidden behind the green branches!
You've got
5 free tries per day
;
each additional one will cost you one Coin
. Hover your mouse-pointer over the tree and find the hidden baubles. Click on the selected position to choose it.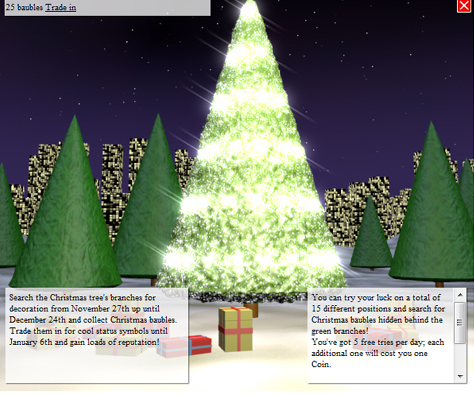 You can trade in your collected baubles via the link "Trade in" above the Christmas tree exchange them for three different status symbols. And here they are:


Snow globe | Ice sculpture | Golden fir tree
Certainly you will be able to get each status symbol more than once, but
please mind that they are not tradeable
. You'll neither be able to sell them on the market, nor via contract or give them away - but who'd want to do that - they are much too pretty for that by far!
Have a very merry and peaceful Christmas-time!
Your upjers-team
Note: please make sure to turn off the GFX pack (untick the box before you log in) if you want to search for Christmas baubles, as the Christmas game cannot by played with an active GFX pack!