Dear businessmen and women,
Christmas time has come. The smell of snow and sweet gingerbread is wafting through the air and beautifully decorated
Christmas trees
are appearing all over the place. And we've got a very special Christmas tree for all of you as well! It won't just serve to get you into Christmas mood, though - no!
With our Christmas game, you can collect baubles and trade them in for great new status symbols!
And this how it works:
Search the Christmas tree's branches for decoration from November 27th up until December 24th and collect Christmas baubles
. You may then
trade them in for cool status symbols until January 6th
and
increase your status score
!
You can try your luck on a total of 15 different positions and search for Christmas baubles hidden behind the green branches!
You've got
5 free tries per day
;
each additional one will cost you one Coin
. Hover your mouse-pointer over the tree and find the hidden baubles. Click on the selected position to choose it.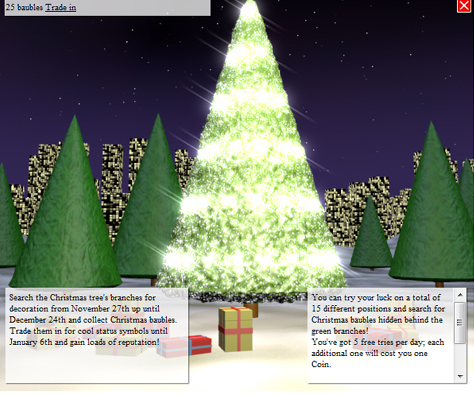 You can trade in your collected baubles via the link "Trade in" above the Christmas tree exchange them for three different status symbols. And here they are:
Certainly you will be able to get each status symbol more than once, but
please mind that they are not tradeable
. You'll neither be able to sell them on the market, nor via contract an, but you will be able to give them away as present - Christmas is the time of giving, after all!
And don't forget: thanks to our bonus system, you can get up to 30% additional Coins with your Coins purchase!
We wish you a very merry and peaceful Christmas-time!
Your upjers-team
Note: please make sure to turn off the GFX pack (untick the box before you log in) if you want to search for Christmas baubles!